by Sven Magnussen
U.S. State Department expressed concerns about Kenyan students studying in America to British Officials in 1959.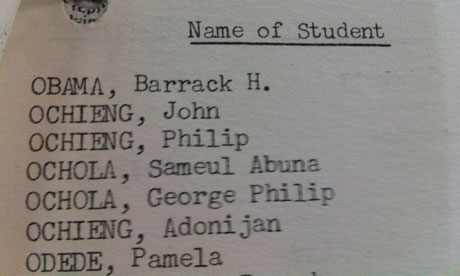 Barrack H. Obama is listed as a Kenyan student studying in America in 1959. US officials complained that Kenyan students were becoming "anti-American and anti-white" just at the time Barack Obama Senior was given a grant to study in America.
According to the article at The Guardian, the African American Students Foundation granted Obama, Sr. a scholarship to study business administration at the University of Hawaii, Honululu. Supporters of the project included the singer Harry Belafonte, the actor Sidney Poitier, and the baseball player Jackie Robinson. Also, "OBAMA, Barrack H" is in the file of Kenyan students in the US drawn up by British colonial officials.
Index of Articles by Sven Magnussen